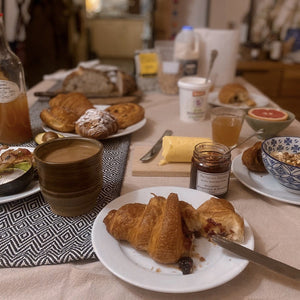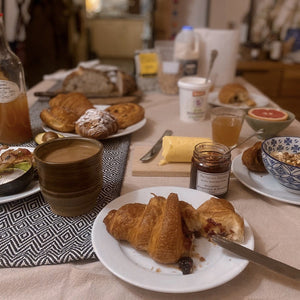 On Sale
Big Breakfast Box
-1 in stock
Start your weekends on the right note by waking up to our Breakfast Box! Leave the headache of going out until after the most important meal of the day...
Everything you could want for your weekend breakfasts and beyond, freshly baked and ready for you on your doorstep when you get up.
Contains our famous pastries: 2 croissants, 1 pain au chocolat, 1 almond croissant, 1 pain au raisin, 1 orange and cinnamon swirl, Orchard Eggs organic eggs, 2 x mini pots of jam, our seeded sourdough, organic avocado, Brambletye organic apple juice.
We produce all kinds of food from scratch in The Sussex Kitchen, and as a result, we use all ingredients imaginable. Although great care is taken, we would be unable to guarantee any product we produce or supply is allergen-free. If you suffer from severe food allergies we suggest you use a retailer/supplier that can cater more specifically to your needs.
We deliver throughout the south-east. Order by midday for next day delivery and spend over £20 for free delivery. Learn more