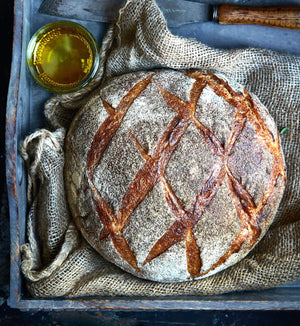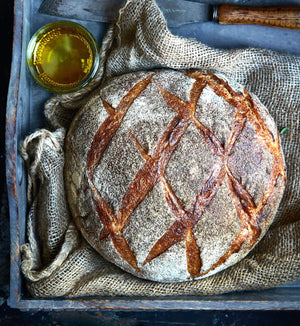 On Sale
Medium Rye Sourdough Bread 1kg - (Unavailable for Sunday delivery)
593 in stock
A richer more sour and fruitier flavour, with a darker crust and softer more tender crumb.

Our bread is packaged in a paper bag as standard.
White flour (wheat), rye flour, water, sea salt.
We produce all kinds of food from scratch in The Sussex Kitchen, and as a result, we use all ingredients imaginable. Although great care is taken, we would be unable to guarantee any product we produce or supply is allergen-free. If you suffer from severe food allergies we suggest you use a retailer/supplier that can cater more specifically to your needs.
We deliver throughout the south-east. Order by midday for next day delivery and spend over £20 for free delivery. Learn more