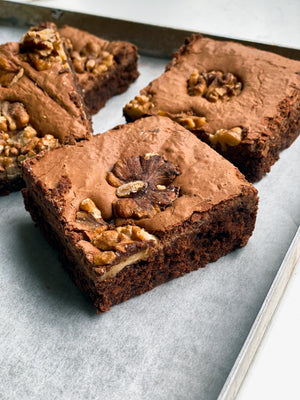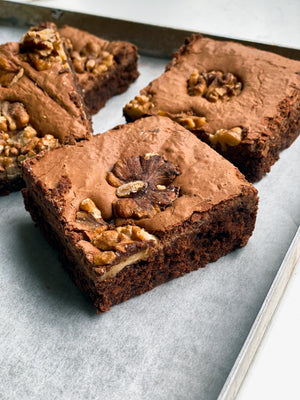 On Sale
Chocolate & Walnut Brownie – Only Gluten Free Ingredients
784 in stock
Our classic. Incredibly chocolatey, chewy and fluffy. Made with only gluten-free ingredients.
IMPORTANT: We process wheat flour in the same facility so it may contain traces of gluten.
Dark chocolate, butter (milk), almond flour (nuts), tapioca, baking powder, eggs, sugar, vanilla essence, walnuts (nuts), sea salt.
We produce all kinds of food from scratch in The Sussex Kitchen, and as a result, we use all ingredients imaginable. Although great care is taken, we would be unable to guarantee any product we produce or supply is allergen-free. If you suffer from severe food allergies we suggest you use a retailer/supplier that can cater more specifically to your needs.
We deliver throughout the south-east. Order by midday for next day delivery and spend over £20 for free delivery. Learn more