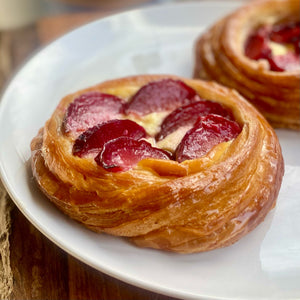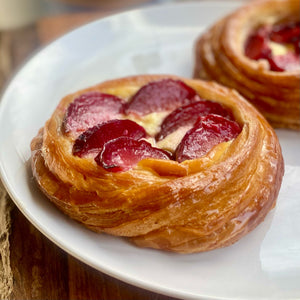 On Sale
Spiced Plum Cheesecake Danish
180 in stock
This makes the perfect afternoon snack, or morning treat.    
Flour (wheat), butter (milk), milk, sugar, dried yeast, egg, sea salt, honey, plums, cinnamon, star anise, lemon juice, cloves, cream cheese (milk), 
We produce all kinds of food from scratch in The Sussex Kitchen, and as a result, we use all ingredients imaginable. Although great care is taken, we would be unable to guarantee any product we produce or supply is allergen-free. If you suffer from severe food allergies we suggest you use a retailer/supplier that can cater more specifically to your needs.
We deliver throughout the south-east. Order by midday for next day delivery and spend over £20 for free delivery. Learn more