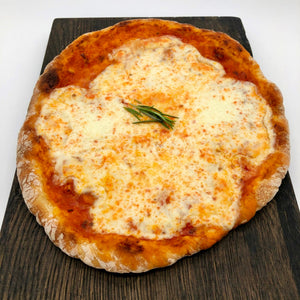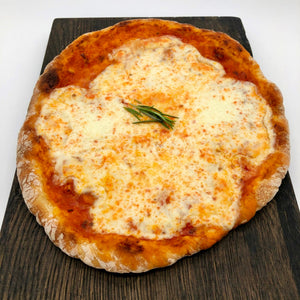 On Sale
Margherita Slow Dough Pizza (Available for delivery Fridays & Saturdays only)
10 in stock
Our Slow Sourdough Pizza Bases. Long fermented (48 hours) for maximum flavour and digestibility. Made with just our tomato sauce, and fresh mozzarella.
Comes in its own pouch for freshness. Simply top with your desired toppings and place in a hot oven (180 degrees) for about 8-9 minutes until piping hot.
I like to cook it and add some fresh basil, a little olive oil and a good twist of black pepper for a classic taste.  
Ingredients:  Flour (wheat), salt, olive oil, tomato, basil, yeast, mozzarella - Keep refrigerated
We produce all kinds of food from scratch in The Sussex Kitchen, and as a result, we use all ingredients imaginable. Although great care is taken, we would be unable to guarantee any product we produce or supply is allergen-free. If you suffer from severe food allergies we suggest you use a retailer/supplier that can cater more specifically to your needs.
We deliver throughout the south-east. Order by midday for next day delivery and spend over £20 for free delivery. Learn more